It's Dinnertime!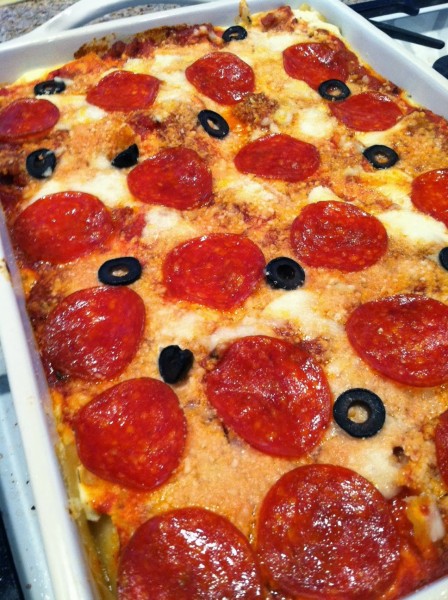 Fall is officially upon us. I couldn't be happier! Now we can really get down to some serious baking and comfort food. This post combines a little bit of both.
I'm really excited about this post. I had so much fun making this dinner. It's a perfectly hearty fall meal that is great for feeding a crowd.
So what's on the menu? 'Pizza' Lasagna with a side of freshly baked Garlic & Herb Breadsticks. YUM.
Let's get started!
What you will need (lasagna):
1 bag Bridgford Sliced Pepperoni, 5 oz.
1 package Italian sausage of choice, 16 oz.
1 small can black olives, sliced
1 block fresh mozzarella cheese, 12 oz.
1 container ricotta cheese of choice, 30 oz.
1/2 cup Parmesan cheese, grated
1 jar marinara sauce of choice
1 box lasagna noodles
1 egg
1 teaspoon dried basil
What you will need (breadsticks):
Before you start your lasagna, prep your Parkerhouse Rolls. Place your desired number of rolls on a nonstick cookie sheet, I made 6, about 2 inches apart. Brush the tops with a small amount of melted butter and let them thaw for 1 to 2 hours.
Get your "pizza toppings" ready. Grate your entire block of fresh mozzarella and drain and rinse your black olives, set aside.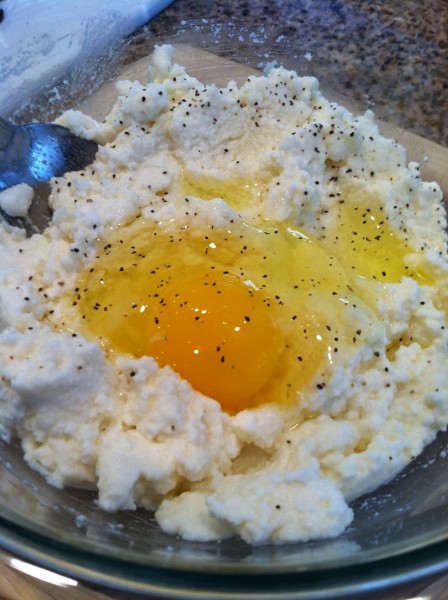 Place ricotta cheese, 1 egg, salt, pepper, and a little sprinkle of dried basil in a medium size bowl.
Mix thoroughly, set aside. I used part-skim ricotta. You are more than welcome to use whole milk. Whatever your preference!
Coat the bottom of a large pan with olive oil. Remove your Italian sausage from the casing completely. Cook on high heat.
When there is little to no pink left, add your jar of marinara sauce to the sausage.
Stir and let simmer, reducing your heat to low.
Bring a large pot of water to a boil. It is probably best to do this while you're sausage is cooking. Add a small amount of olive oil to your water so the noodles do not stick. I cooked the entire box, but had about 6 pieces left over, so keep that in mind! The instructions on the box say to boil for 7 minutes. You don't want them to be mushy, since they will finish cooking in the oven later. Drain and set aside.
Time to start layering! Add a small amount of your sauce to the bottom of a 9 x 13 lasagna pan, spread evenly.
Add one layer of noodles…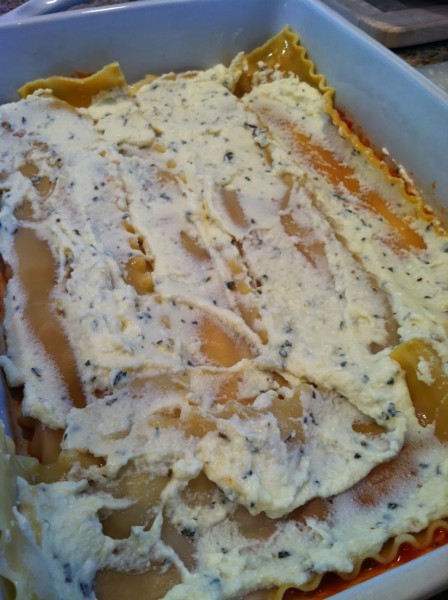 Ricotta mixture…
Sauce with yummy sausage…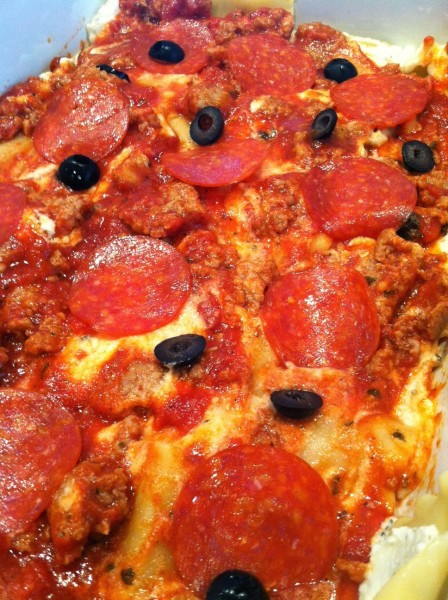 Pepperoni and black olives…
Last, but certainly not least, mozzarella cheese.
Repeat layering until you reach the top of your pan. Approx. 3 layers.
For the top layer, sprinkle the rest of your mozzarella and 1/2 cup Parmesan. Then add remaining pepperoni and black olives on top. Doesn't it it look like a pizza? Bake at 350° F for 25 to 30 minutes.
Look at that! Comfort food at its finest. Okay, back to the breadsticks…
Place your thawed Parkerhouse Rolls on a clean, floured surface.
Lightly coat each side with flour and form them into sticks. You don't even need a rolling pin! Just use your hands. Arrange them on a nonstick cookie sheet, 2 to 3 inches apart.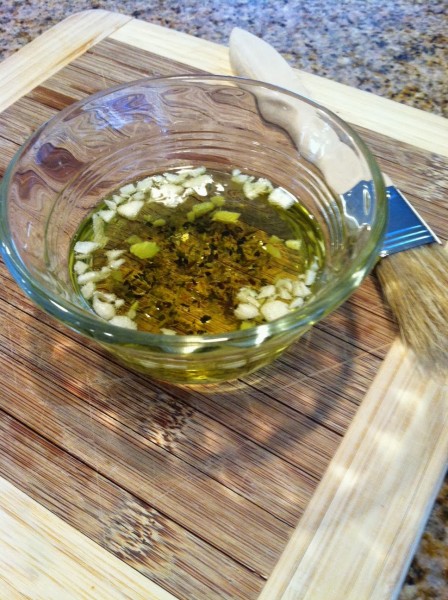 In a small pan heat 2 tablespoons of olive oil, minced garlic, dried thyme, and basil, for about 2 minutes. You do not want to cook it for a long period of time, just enough to infuse the oil. Brush a generous amount over each of your breadsticks. Let them rise until double in size, which should take about 30 minutes.
Bake at 425° F for 7 to 10 minutes, or until golden brown.
These smell heavenly while baking. You're in for a treat!
Time to serve up some hearty comfort food to your friends and family! Or if you're only cooking for a few, you will have leftovers for a few days. Awesome!
Dinnertime! Enjoy!