About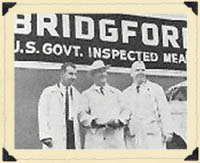 Bridgford Foods Corporation traces its roots back 91 years to 1932, when our founder Hugh H. Bridgford (1908-1992) opened a retail meat market in San Diego, California.  Our business first evolved into several retail meat markets, and later to meat wholesaling, frozen food distribution, meat processing and frozen food manufacturing.  The Company is now headquartered in Dallas, Texas.  The Company has five production facilities: two in Dallas, and one each in Anaheim, California, Chicago, Illinois, and Statesville, North Carolina.
Bridgford Foods pioneered the manufacture and sale of frozen bread dough to supermarkets and institutional customers, beginning in 1962.  The first products were made at the Anaheim meat-processing facility.  Additional frozen bread plants were added in Dallas in 1968 and 1985, and in Statesville, North Carolina in 1996.  In 1975, we acquired our Chicago meat processing facility, which has a heavy emphasis on dry and semi-dry sausage, as well as beef jerky. In 2017, we acquired an additional processing plant in Chicago, and we completed the transition to this new facility in late 2020.
Our principal product lines include Bridgford Frozen Bread Dough and Buttermilk Biscuits, Monkey Bread, Beef  Jerky, Shelf-Stable Dry and Semi-Dry Sausage, and Shelf-Stable Sandwiches. We cater to both the retail and foodservice trade.
Bridgford Foods Corporation currently has about 650 employees.  Our products are sold in all 50 states, Canada and several overseas markets. The Company's common stock (9.1 million shares outstanding) is traded on the NASDAQ National Market System under the symbol "BRID."  There are approximately 700 shareholders.  Members of the Bridgford family own or control more than 80% of the common stock, and many members of the extended Bridgford family hold key management positions in the Company.  Financial information is available at www.bridgford.com.
Our Staff
Bridgford Foods Corporation is managed by a five member Executive Committee which reports to the Board of Directors.  Members are Michael W. Bridgford, Chairman of the Board, Baron R.H. Bridgford II, President, Raymond F. Lancy, Executive Vice-President and Chief Financial Officer, William L. Bridgford, Vice President and Chairman of the Executive Committee, and John V. Simmons, Vice President.
Directors Todd C. Andrews, former Vice President and Controller, Public Storage, Inc.; Allan L. Bridgford, Consultant; William L. Bridgford, Vice President; Raymond F. Lancy, CFO; Keith A. Ross, President, KR6, Inc.; D. Gregory Scott, Managing Director, Peak Holdings, LLC; Mary Schott, Financial Services Consultant; John V. Simmons, Vice President.
Officers Baron R.H. Bridgford II, President; Michael W. Bridgford, Chairman; William L. Bridgford, Vice President; Chris Cole, Senior Vice President; Bob Delong, Vice President, Information Technologies; Raymond F. Lancy, Executive Vice President, Chief Financial Officer and Treasurer; Cindy Matthews-Morales, Corporate Secretary and Controller; Christian Quigley, Vice President; John V. Simmons, Vice President.
Division Managers Baron R.H. Bridgford, President Bridgford Foods of Illinois; Blaine K. Bridgford, President, Superior Foods Division; Monty Griffith, Vice President, Bridgford Foods of North Carolina; Brandon Bridgford, Bakery Manager, Frozen-Rite Division; Jeffrey D. Robinson, Bakery Manager, Anaheim Bread Division.
Allan Bridgford Sr., Vice President and Chairman of the Executive Committee, retired in late 2021 after more than 64 years of service and will continue to provide consulting services to the Company and serve on the Board of Directors.
Value Statement
For 90 years, the mission of Bridgford Foods Corporation has been to develop, produce, sell and distribute superior quality food products that provide a consistent value to our customers. We strive to provide gainful and rewarding careers for our employees, and are in the enviable position of having many long-time employees with a passion for our business and a determination to keep it successful. We work to achieve a fair return for our shareholders. We adhere to the highest ethical standards. We treat our customers and employees with honesty, respect, dignity and appreciation. We believe that we wrap our future in every package, and stand behind the products we sell 100%. We are proud of our company and are committed to enhancing its assets and resources. We strive to be responsive, dependable and accountable to our associates, and view our relationships with customers and suppliers as partnerships. We believe that innovation is essential to the future success of our business, and strive to be industry trendsetters in the development of new products. We are enthusiastic and communicate openly and honestly in our dealings with all of our stockholders.
Locations



Bridgford Foods
of Illinois

1415 W. 44th St.
Chicago, IL 60609
312.733.0300




Bridgford Foods of
North Carolina

112 Progress Place
Statesville, NC 28677
704.878.2772




Superior
Foods Division

9001 Chancellor Row
Dallas, TX 75247
214.631.7970




Frozen
Rite Division

1601 S Good-Latimer Expwy
Dallas, TX 75226
214.428.1535




Bridgford Foods
of California

1308 N Patt Street
Anaheim, CA 92801
714.526.5533