Simple Salad Pizza
This recipe is so easy! Fresh tomatoes and mixed greens dressed with a yummy vinaigrette, all atop a deliciously cheesy crust made with Bridgford Frozen Ready-Dough®!
Let's get started!
What you will need:
For pizza:
1/2 cup shaved Parmesan cheese
1 tablespoon dried Italian seasoning
4 tablespoons olive oil (or garlic infused olive oil)
1 cup grape or cherry tomatoes
1 bag pre-washed mixed greens of choice
For vinaigrette:
1 tablespoon Dijon mustard
3 tablespoons white wine vinegar
Juice of 1 lemon
1 large garlic clove, minced
1/2 cup olive oil
Thaw 1 loaf of Ready-Dough according to the package instructions. The microwave thawing instructions are perfect for this recipe!
Once your dough is thawed, dust it lightly with flour on all sides, and divide it into 4 equal pieces.
Roll each piece out into a flat, oval shape (approximately 6 inches). Do not worry about the dough looking perfect!
Transfer your rolled out dough to a cookie sheet(s), either lightly greased or lined with parchment paper. Brush each piece lightly with olive oil, sprinkle with Italian seasoning, and shaved Parmesan cheese.
Top with cut cherry or grape tomatoes (look at these pretty heirlooms!) and bake in a preheated  375° oven for 12 to 15 minutes, or until golden brown. While they are baking, prep your salad…

Combine minced garlic, Dijon mustard, lemon juice, and white wine vinegar.

Whisk it all together with olive oil and dress your mixed greens.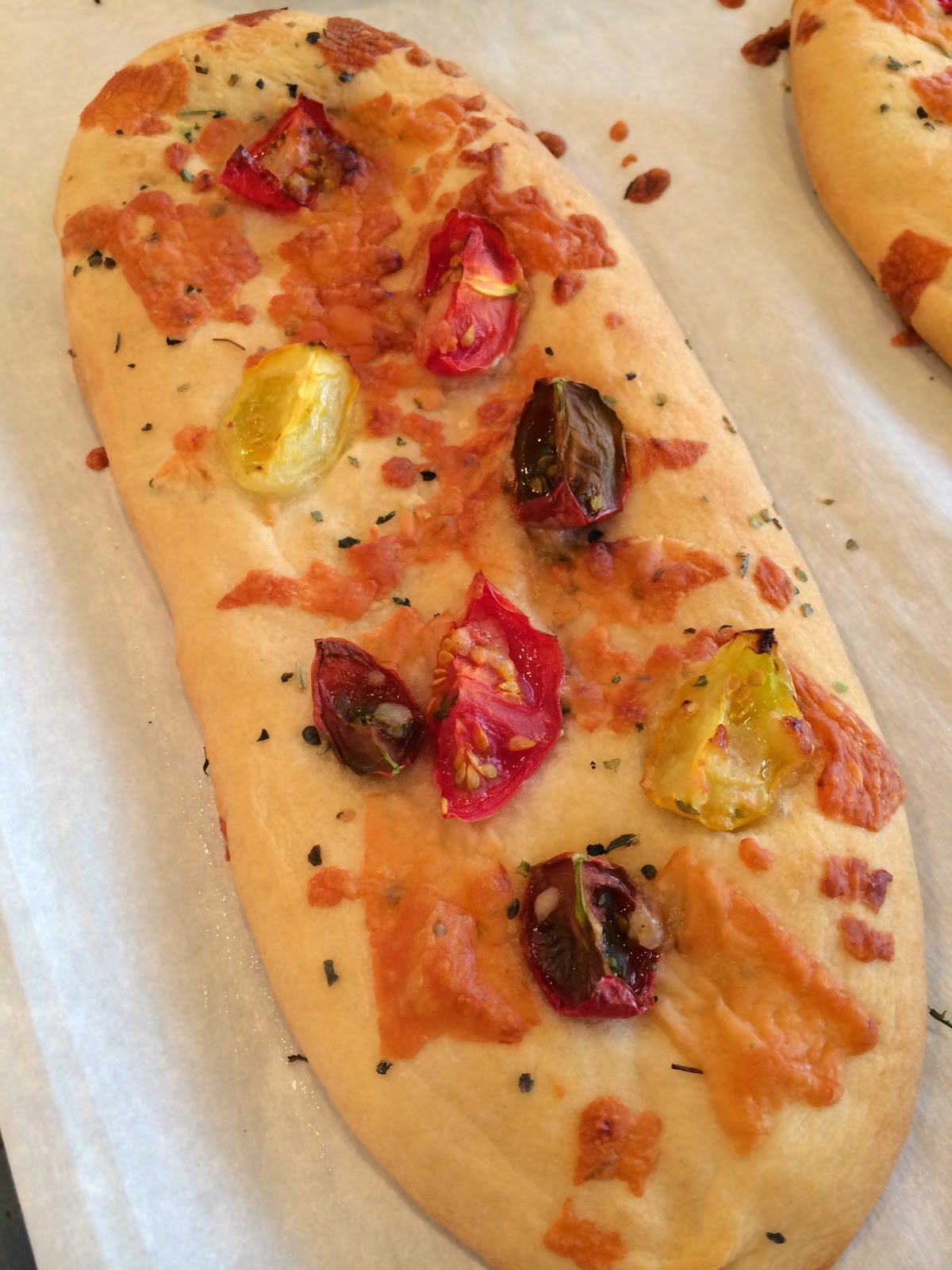 Remove the pizzas from the oven and let them cool slightly.


Top each pizza with mixed greens…yum!
Slice and enjoy. Happy Baking!