Monkey Bread Muffins
Monkey Bread is a MUST for the holiday season, right?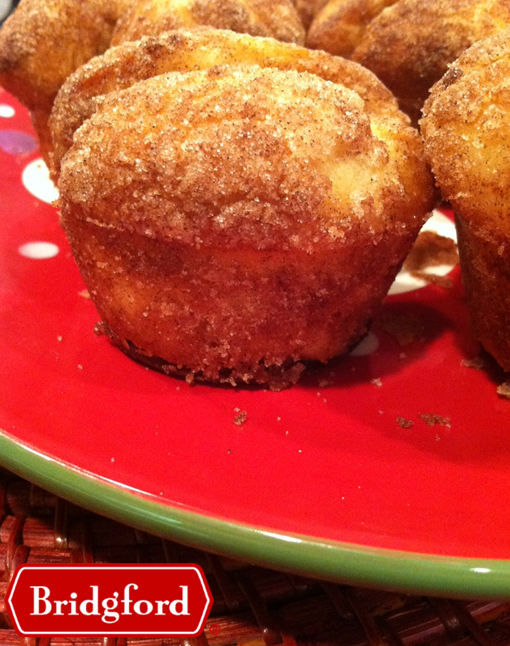 These muffins are mini versions of this popular pull-apart. Same ingredients, same delicious taste, and very minimal assembly required. You probably wish the same could be said about the huge dollhouse you bought your daughter for Christmas…that was just shipped to you in 467 pieces. How about you have your hubby put that together while you bake these? Sounds like a fair trade. 😉
Let's get started!
What you will need:
OR
Start by thawing your rolls according to the instructions on the back of the package (approx. 1 to 2 hours). If you are using Ready-Dough, follow thawing instructions as well (microwave thawing instructions for quickest results), divide 1 and 1/2 loaves into 24 equal pieces, and form each piece into a ball.
Add 1 cup of granulated sugar and 2 teaspoons of cinnamon into a small bowl. Combine evenly.
Place 1 stick of butter (1/2 cup) into a microwave safe dish and heat until melted. Proceed to dip each dough piece in the butter, then coat with cinnamon sugar mixture.
Lightly grease a standard size muffin pan (makes one dozen). I placed my dough directly into the pan without cupcake liners. If you want to use cupcake liners, red and green to be festive, you most certainly can. If you don't have any on hand, the rolls definitely hold shape so don't worry!
Place two rolls next to each other in each section.
Let them rise for approximately one hour.
They should be double in size and puffy. Bake in a preheated 375° oven for 20 to 25 minutes.
The muffins should be well browned and sound hollow when tapped on top. Turn them out of the pan and let cool, then arrange these delicious muffins on a fun holiday plate!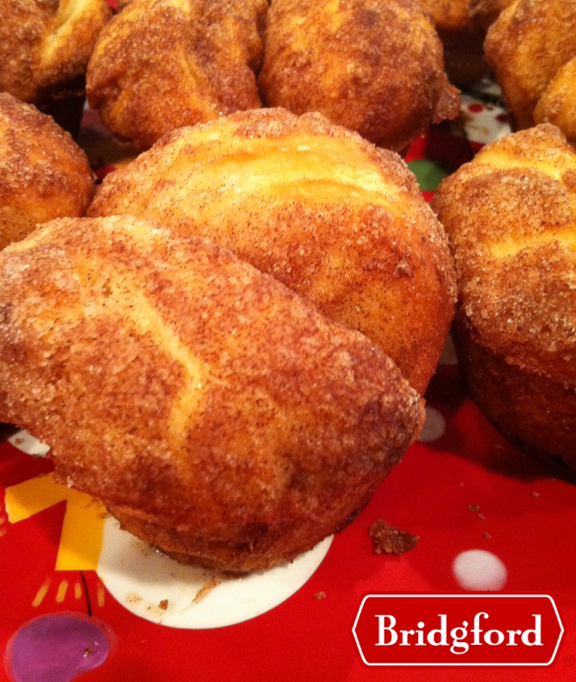 Enjoy!
For more holiday recipes visit bridgford.com/bread